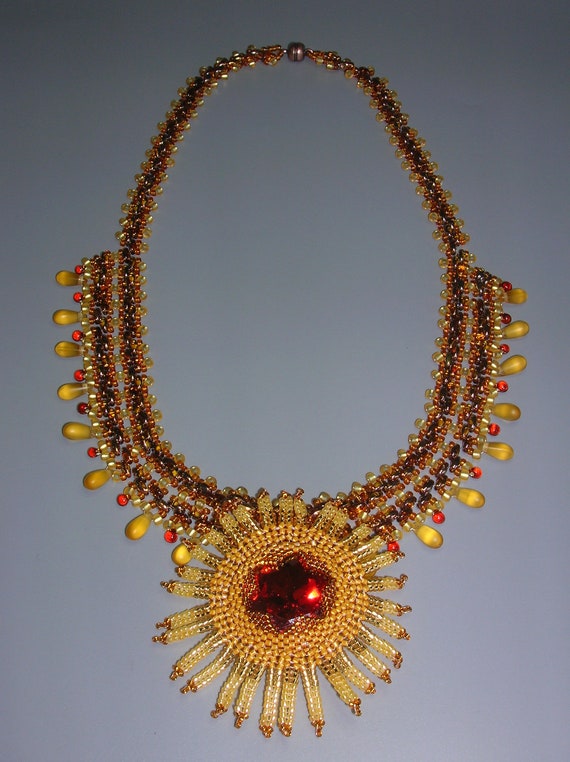 Congratulations to zviagil, for winning the popular vote for the piece
"Hot Hot Hot,"
with 71 votes (14%) of the 519 votes. The runners up are as follows:
2nd place -
Hot Herringbone Necklace Transformer by Svetush
with 69 votes (13%)
Tied for 3rd place -
FIRE Salamander Necklace by KrisDesignFSP
and
Sparkling Summer Sun by PreciousHeartBeads
with 52 votes each (10%)
4th place -
Flame Necklace by Crystalstargems
with 51 votes (10%)
5th place -
Bead Embroidered Sahara Set by Vicus
with 30 votes (6%)
6th place -
Heat Wave Bead Embroidered Necklace by AngelqueCreations
with 25 votes (5%)
7th place -
Hell Bracelet - Flames of Fire by FrancescasFancy
with 20 votes (4%)
8th place -
Glowing Embers Fringed Necklace by Medic5415
with 16 votes (3%)
9th place -
Global Warming by CraftyWeaves
with 15 votes (3%)
Tied for 10th place -
Baby You're a Firework Necklace by beadn4fun
and
Rivoli Crystal August Sun Necklace by SpringColors
with 14 votes each (3%)
Congratulations to Tracey of Crystalstargems, winner of the August "HOT HOT HOT" internal team vote with her
"Flame Necklace!"
As winner of the Team Favorite vote, Tracey will have the honor of selecting the theme for our October challenge.